We'd like to think we're foodies. Then I looked up the Urban Dictionary definition:
A person that spends a keen amount of attention and energy on knowing the ingredients of food, the proper preparation of food, and finds great enjoyment in top-notch ingredients and exemplary preparation.
Having watched Food Inc. and grown up in the tree-hugging Seattle area, we try to buy free-range eggs, eat grass fed beef, and try gourmet recipes. But that's the extent of our "foodie" attributes. We just like to eat good food.
So, here's some of our favourite local fare:
Crates, chalkboards, and distressed wood tables and chairs create a relaxed yet sophisticated atmosphere. My favorite place to sit is the bench by the window, made entirely of sewn together suit jackets. Not only can you purchase fine meats, cheeses, and wine to go, you can grab a quick scone and cappuccino or a full meal. We ate this after church today:
Full Cooked Scottish Breakfast: Toast, sausage, bacon, haggis, fried egg, blood pudding, tomatoes, and mushrooms. Wash this down with some french press coffee, and you're one step closer to actually being Scottish. Well, probably not, but it's fun to pretend.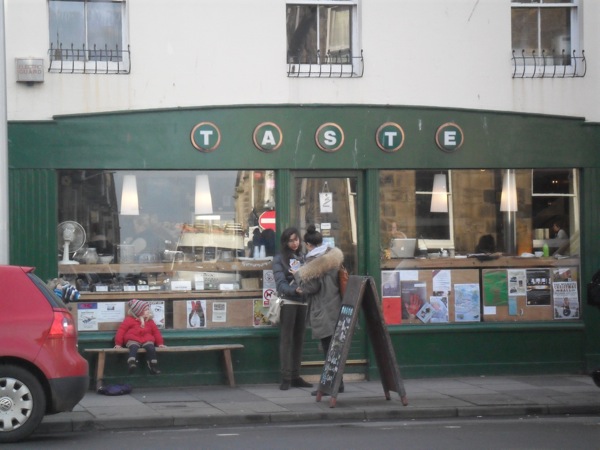 Their coffee is so good they don't need an actual website to promote it. (The link is to the St Andrew's Directory.)
I have to be honest, sitting inside is not my favorite. The music is bad and the large painting of a strange looking man creeps me out. But, the vanilla latte is magical. They steam the vanilla into the milk, pull each shot by hand, and even make cool foam designs. Only minutes from my office, I'm often tempted to go out for a quick caffeine fix. By far, it's the best coffee in St Andrews.
With that, I'll conclude this edition of Good Eats: St A's. Come visit and we promise to treat you to our favorite food and drink spots.